How to Reset Forgotten Windows Password with iSeePassword
Today, we are going to share an important solution to one of the most asked questions in our blog about how to reset forgotten Windows password. Undoubtedly, Windows is the best operating system in the world because it is very user-friendly and at the same time it pre-measures higher security than any other operating system. Likewise, every Windows computer users has the ability to password-protect their computer with a simple text password or a PIN code and with Windows 8 and 10, you can even use your Microsoft account to encrypt your computer.
Although, it is an excellent idea to keep your computer or laptop password-protected but if you keep changing the password due to security reasons then some day you may forget your own computer password and lock yourself out forever. There are many reasons why you could forget the password but the main subject is how to reset the password after you forget it. Surely, you can try formatting your computer but that will not only destroy every data from your computer but it will totally erase all the necessary software from your system as well. Re-installation of OS is only recommended if you have a complete back up of your system.
So, the best option is to use a third party desktop software that can completely remove the password from your computer and help to bypass the login screen. This is indubitably possible with the help of iSeePassword – Windows Password Recovery Pro. It is a fantastic and life-saving program that can totally erase the password from your computer without causing any data loss. It has been downloaded and used by millions of users who are satisfied and reported that it works perfectly.
Why should I choose iSeePassword – Windows Password Recovery Pro?
100% guaranteed that your password will be removed from your Windows computer or laptop.
Works with all latest and old Windows versions like Windows Vista, 7, 8, 10, XP, and so on.
Create your own password reset disk with CD/DVD or USB key.
Add and remove new or existing users from your computer.
Unlock expired or disabled users.
Very lite in size and super easy to use.
Reset password from any kind of user profiles such as local user, administrator, root or domain administrator accounts.
Supported with all types of hard disks like SATA, IDE, SSD, etc.
Free lifetime upgrades and 24X7 email support available.
How to use iSeePassword Program?
Download and install iSeePassword program on a different Windows laptop or computer.
Run the program and plug in a USB stick or CD/DVD with at least 500 MB of free space.
Burn the required files on to your USB stick or CD/DVD by clicking on "Burn USB" or "Burn CD/DVD", depends on which device you are using to create the bootable disk.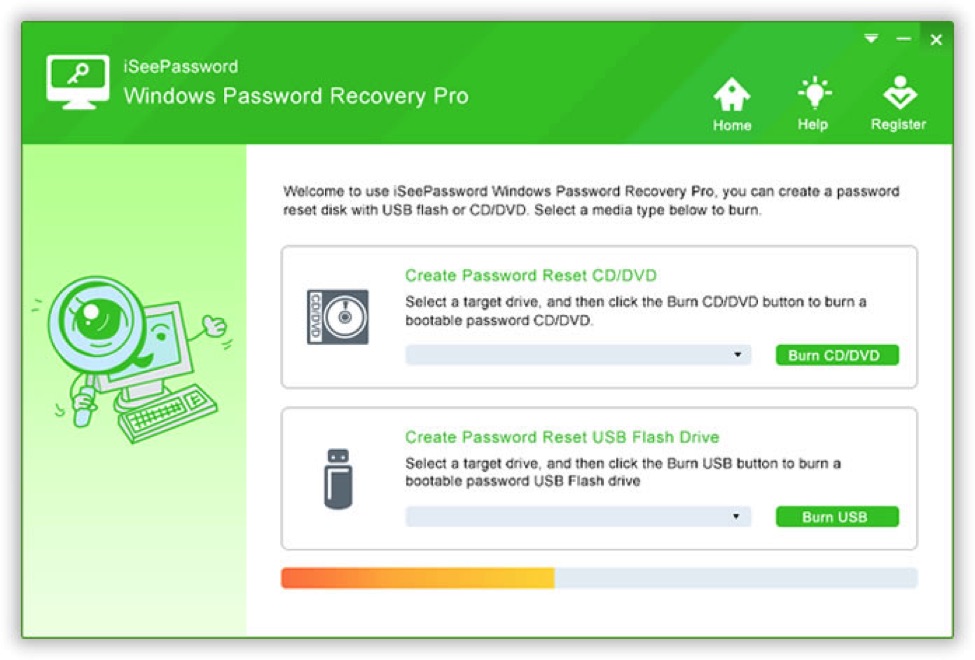 You should be able to see a pop-up message saying "Burning Successfully!" which indicates the password reset disk is successfully created.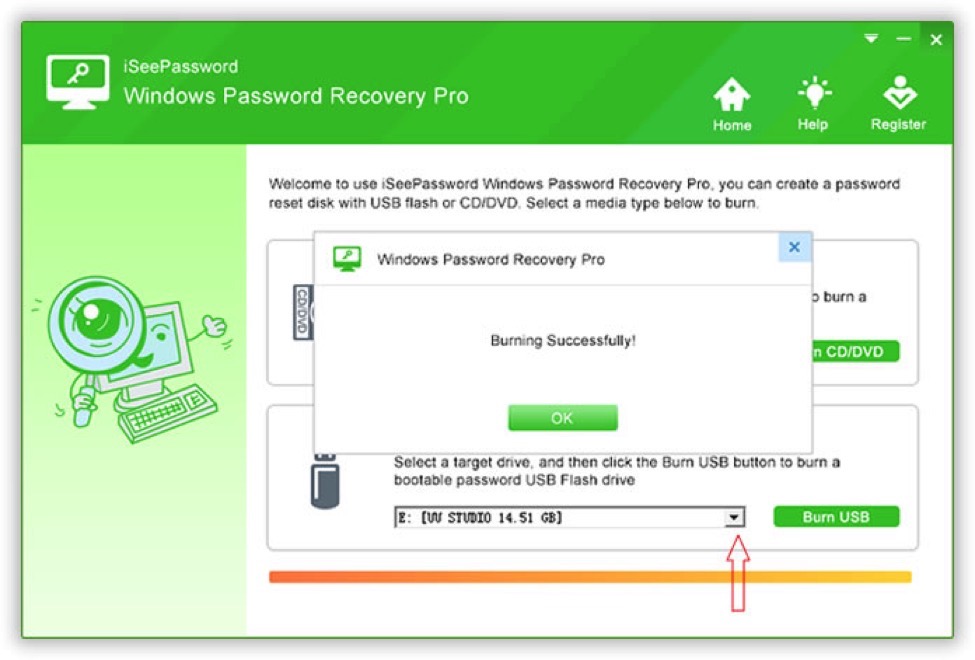 Now, use this bootable disk on your locked system and reboot your PC. Keep pressing F2 or F5 or F8 or Esc button on your keyboard and choose your bootable disk name from the list to launch iSeePassword program.
After the program is successfully opened, you should select the Windows version that you are using (for example – Windows 7) and select the main username from the user list.
Now click on "Reset Password" and this should set your password to null and totally remove the password from your PC.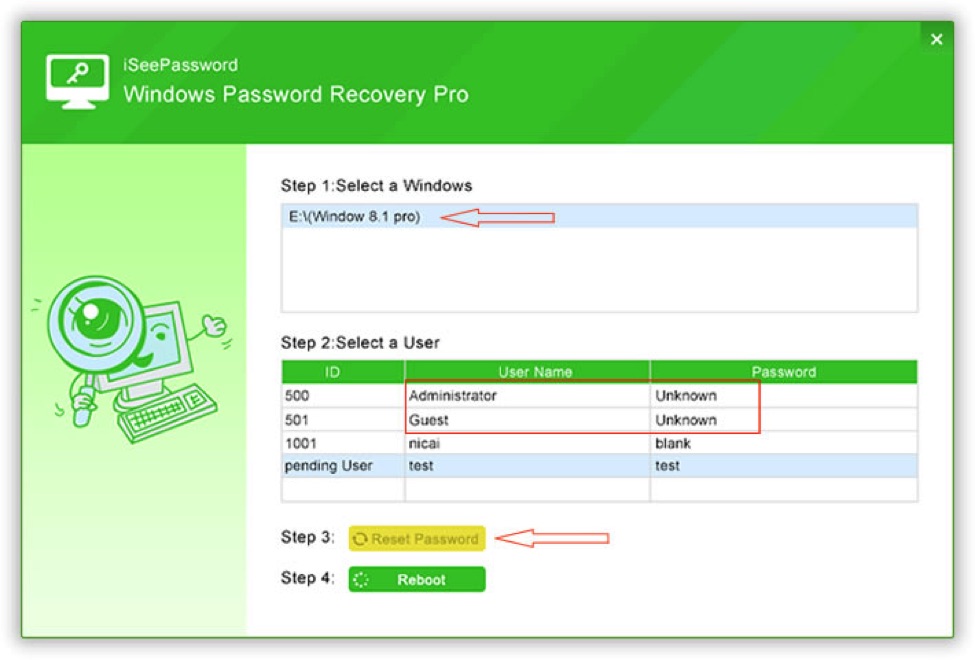 Restart your computer and enjoy. You should be able login to your computer without any password and it is assured that no data will be removed at any price.
Important Note –
Windows Password Recovery Pro should be only used on your personal computer to reset the password. If you are using it on any other computer then you must take proper authority from its owner. This program must not be used for any hacking or illegal purposes as it is punishable by law.
What happens if iSeePassword Program fails to reset your computer password?
iSeePassword is free to try and you will be able to see all the user profiles associated with your computer. But only the registered version of this program can unlock your computer. You only have to pay a small one-time fee and you will be receiving lifetime free upgrades.
This software does comes with a 30 days money back guarantee so if you are not satisfied with this program then feel free to go ahead and refund but we assure you that it won't be needed.