iTunes Syncing Drives You Crazy? Here's How to Transfer Files Smoothly to iPhone
Do you own an iPhone, iPad, or iPod, but you don't have a Mac. So you use your iTunes on your Windows computer to transfer files, like Music, Videos, Photos to your iPhone. How do you feel about it? How fast does iTunes work on Windows?
Well, iTunes for Windows is a pain for users. iTunes doesn't work smoothly on Windows as it does on Mac. You may have faced this trouble many times that you click on the iTunes app and it doesn't respond or gets stuck, sometimes it takes so much time to load. That's very frustrating, isn't it? So we are here to tell you the best alternative that will remove you from this frustration and will also save the time.
Meet WinX MediaTrans: The Best iTunes Alternative For Windows
WinX MediaTrasn is well optimized for Windows Operating System and doesn't crash like iTunes does on Windows. The app launches quickly after clicking on it. It is also lighter in weight compared to iTunes application. So it will work smoothly even on a Computer with low RAM, and it is the best iTunes alternative for you.
What can you do with WinX MediaTrans app on Windows?
Transfer Photos, Music, Videos, iBooks, Voice memo, ringtones to any iOS device
Use an external flash drive to transfer files quickly between iOS devices and the flash drive
Delete files from iPhone
Export Files from iPhone to computer and use for any other purpose
Edit a file detail. For example, you can select a Music file and click on Edit option to enter a new name, artist name, album name, composer name etc.
WinX MediaTrans can Unchain DRM and make M4V/M4P/M4A files from iTunes Store playable in any devices
While transferring unsupported video or audio files, WinX MediaTrans can auto detect and convert those files into supported format, like MP4, Mp3 or aac
How to use WinX MediaTrans Application to Transfer Music, Videos, Photos etc..
The process to transfer files is same whether you transfer music, videos, or other files. In this example, I will tell you how to add videos to TV App on iPhone (Video app has been merged with TV app with iOS 10).
Install WinX MediaTrans iTunes Alternative app on your Windows Computer and run the application and let the device connect. Once connected you will see the model number, OS version, and other details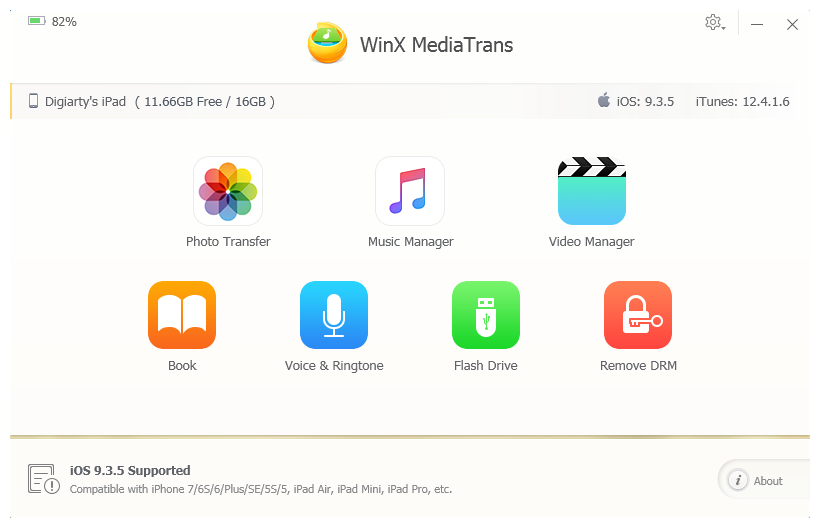 Click on Video Option and you will see all the existing videos of your iPhone with some options at the top to add, delete, and export videos
Click on Add Video Option and then select the videos from your computer that you want to add to iPhone. Once done, click on the Sync option to complete the transfer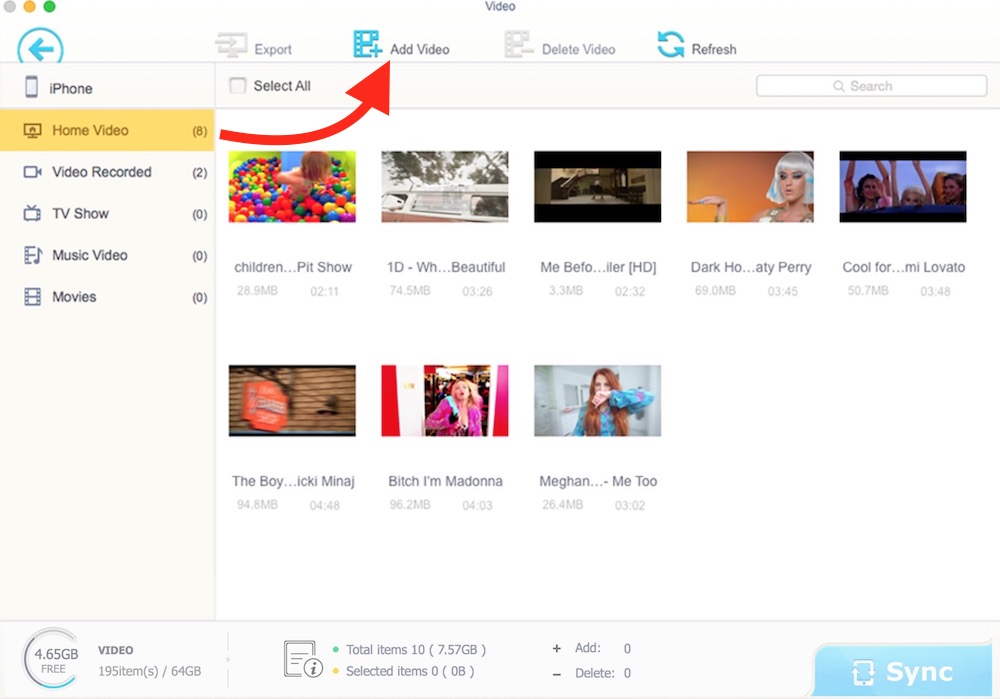 Overall, WinX MediaTrans is a great alternative to iTunes that works smoother and faster. It also makes easier to manage multiple iOS devices. You can easily add files to one iPhone or export from it and then transfer to another.
If you still prefer iTunes and face any issue in installing or using, please read, please read iTunes Errors FAQ.
You may win cash by telling iTunes Crash Story
Make a meme and submit, and then share on social media or wherever you want. Be the Meme King, win cash. The second round of the contest has already started that will end on August 17. You don't need to purchase an item to enroll yourself in this contest.