How Password Reset Disk Works if You Forgot Windows Login Password
So, you have forgotten your computer password but hey, it happens to all of us especially when we are creating strong passwords that are hard to guess and difficult to memorize. To put your mind in comfort, let us tell you that you are not alone in this game. But fortunately, there are several ways to reset Windows password that we are going to discuss in this article.
Why do we forget our computer password?
Simple. They are long, tough and secure passwords mixed with special characters. They are never easy to remember unless you write them down on a piece of paper. Another reason if someone plays a prank on you by changing the password without your acknowledgment.
What will happen if you can't remember your computer password?
Let's just say without the computer password, you won't be able to access any data or information inside your system. Whether its data, files, folders, software, pictures, documents or any other stuff, everything will be inaccessible when your computer is locked. But remember, if you keep entering the wrong password then you are putting your computer in a danger of locking it out forever.
Let's get started with how to reset the password and learn to unlock your computer effortlessly.
Time to use your Password Reset Disk
It is the perfect time to use your Windows password reset disk to reset the password of your PC that you have created before you forgot your own password. Congratulations! You are one of the most cautious and proactive person.
Implement the following steps to unlock your Windows computer with Password reset disk –
Step 1. Insert the flash drive or CD/DVD with your computer password reset disk file and reboot it.
Step 2. On the logon screen, click on "Reset Password" and a new forgotten password wizard window will appear.

Step 3. Click on "Next", choose the password reset disk name and enter a new password for your computer twice.
Step 4. Save the new password and remove the password reset disk.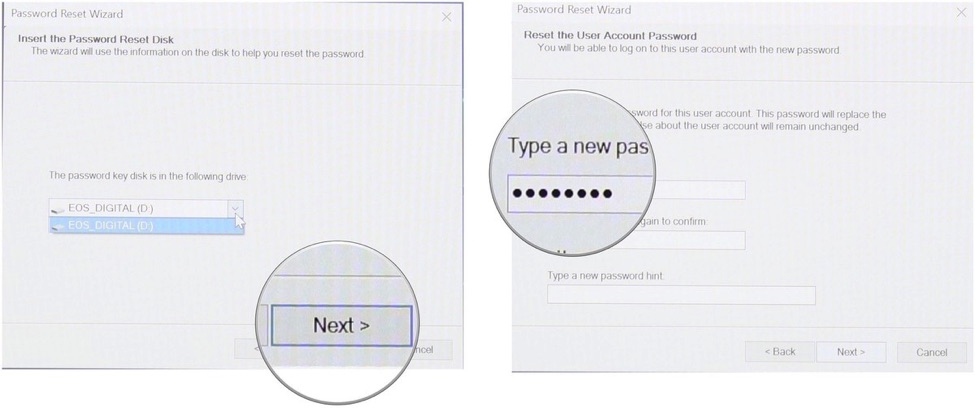 Reboot your computer and use the new password to access your PC again.
That's it! You have successfully changed the password of your computer. However, we presume that most of you won't even bother to create a password reset disk assuming this moment might never come in your life. Or maybe you never knew this feature exists in Windows computers. If you don't have the pre-created password reset disk then don't worry because we will show you how to create a password reset disk even if you don't remember your computer password.
How to create a password reset disk with third-party software?
Since you never created a password reset disk for your PC, it's time to create one with the help of a third-party Windows password recovery tool. In this tutorial, we will be using Windows Password Mate to create a new password reset disk in 2 ways with your CD/DVD or USB stick and unlock your password-protected computer.
UUkeys Windows Password Mate is world-renowned password recovery software that has helped countless people to reset their computer password. This program works independently and doesn't require having any knowledge of your existing password. It works with all Windows versions such as Windows XP/Vista/7/8/10 and so on. It is perfectly capable of removing any kind of passwords such as PIN, text and picture passwords. Let's see how this program works to unlock your computer.
First, you will be required to grab a working Windows computer or laptop so that you can install the program because your current PC is locked. Next, plug in a USB flash drive and click on "Burn USB" from the main user interface of the tool.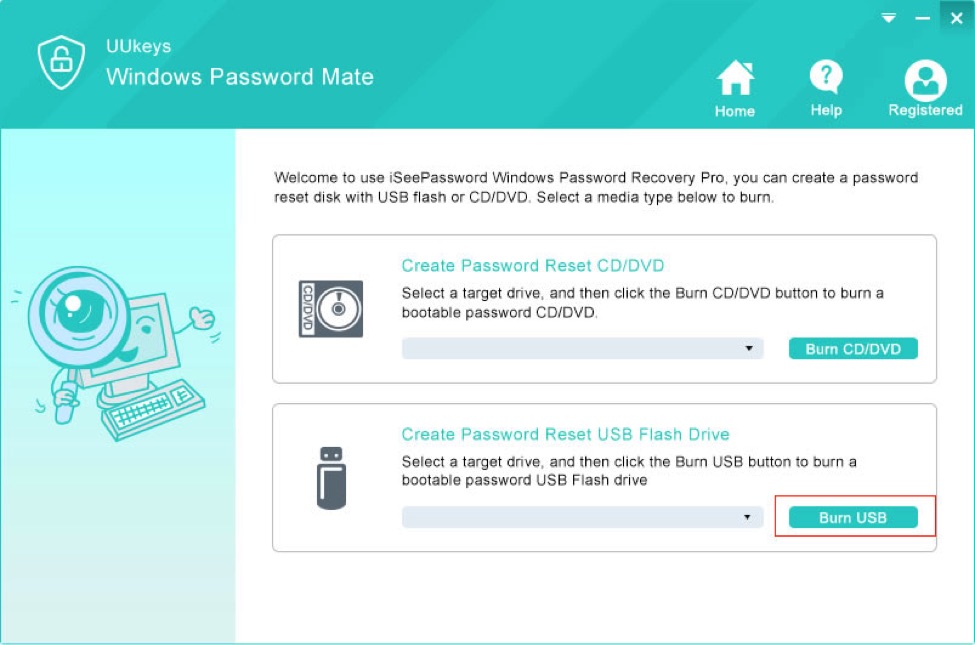 When the password reset disk is successfully created, you will be prompted with a pop message saying "Burning Successfully!"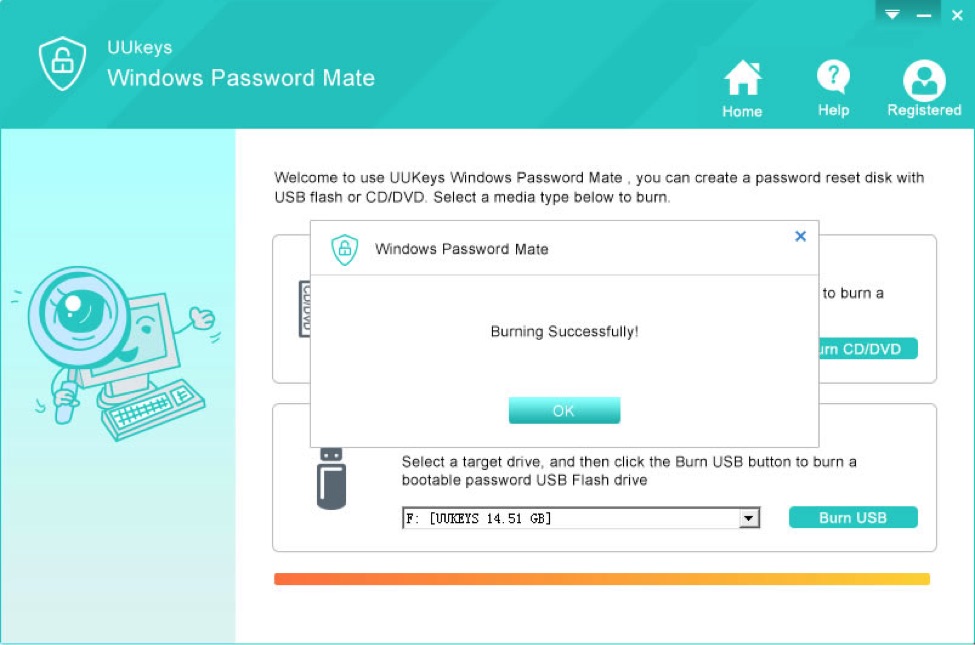 Now, it's time to unlock your protected computer. Re-insert the password reset disk on your locked PC and reboot the computer. UUkeys Windows password mate will be launched on the logon screen and simply select the Windows version and username from the main interface of the program. Finally, click on "Reset Password" to completely destroy the password from your system and reboot it.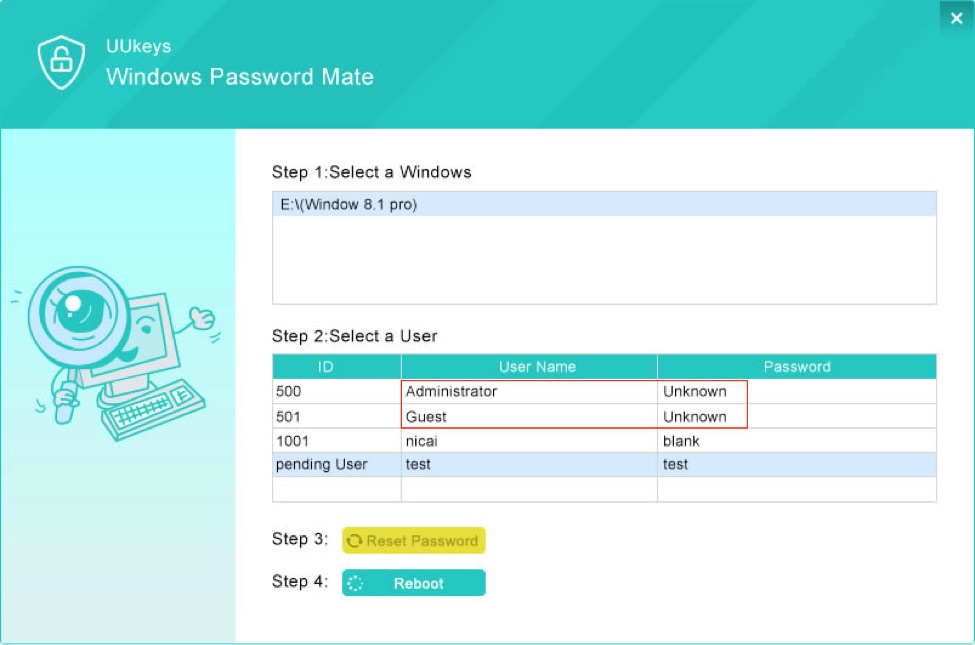 Remove the flash drive from your PC and there you have it! You can now access your computer normally without any password at all.
Final Words
It is highly recommended that you must have a password reset disk for your own computer. Password reset disks only works with the particular computer from which it is created but if you have forgotten to create the password reset disk and locked yourself out then you can always use UUkeys Password Reset disk to completely remove the password from your computer by creating a brand new password reset disk. Hopefully you guys found this article enjoyable and don't forget to subscribe to our blog.