What are the Alternatives to Windows Password Key to Access Locked Computers?
Window's Password key is one of the several methods to access locked Windows computer, and not the only solution available so far. Thus you can relax, and read the alternative methods to enter your locked down computer discussed here in the article below.
Whether you are a beginner or long term user of Windows computer, once in your period of usage, you must have run into a situation where you completely forget your system password. No matter how hard you try, you cannot simply recollect the exact permutation, and this quite often happens when you are using the account after a longer period of time. But you need not worry about the data stored within your locked down system hard disk, as there are several authentic methods are available.
Go through 3 of those methodologies described here in the article, but make sure to follow it as exactly as given in order to avoid any technical mayhem.
Solution #1: Reset Password with Guest User Account
If your computer stores multiple user accounts apart from the one which is currently locked out, then this method is surest pathway to your success. Basically you first have to enter the locked Windows computer with any other alternate user account and then reset the password for the locked account. How to do it? Follow the steps as exactly as prescribed hereafter.
Switch on your target locked computer, and sign in with any other user account, be it an administrator or local user account. Off the main home screen, press "Windows logo+R" key combination to open the little "Run" panel down at the corner. Type in "compmgmt.msc" and hit "Enter" and you "Computer Management" panel will open up instantly. On the left side of the panel click on "Local Users & Groups" and then "Users" successively and as a result on the right side pane you will be displayed all the registered user accounts of your locked computer. Choose your target user account that you wish to unlock here, and right-click on it. Click on "Set Password" from the context menu and set a new fresh password for that particular account again.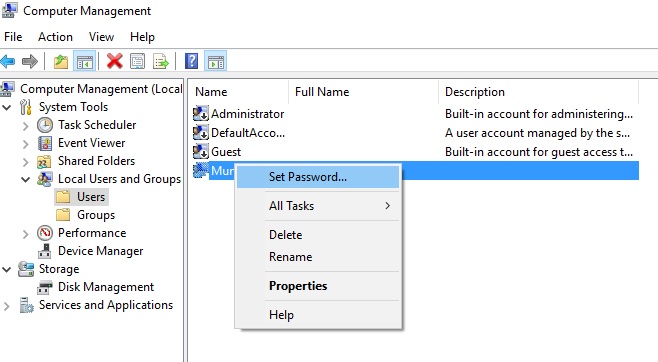 Reboot your computer and enter using the same old account but this time input the newly created password and there will be no prohibition any longer.
But in case, your computer does not contain any other user account than the one which is lately locked, then the method is of no use to you.
Thus, if you wish to try out something new, more plausible and better switch over the next method given ahead.
Solution#1: Reset Password with Command Prompt
Command prompt is one of the most wonderful tools invented by Microsoft. It is actually a command line interpreter which can perform any task at one go at the command of certain codes. So basically you need to know those codes to reset your password using it.
Here is what you have got to do. Insert your OS bootable disk into the locked system and turn on the system normally. Select any of the understandable language and click on "Troubleshoot" option. Next click on "Command prompt" to launch it in advanced mode. Once the black dialogue box of cmd appears, type in the following command:
copy c:\windows\system32\sethc.exe c:\
Again type:
copy /y c:\windows\system32\cmd.exe c:\windows\system32\sethc.exe
Now restart your computer by closing the cmd window and when the welcome screen appears again, hit the "Shift" key 5 times continuously which would astonishingly open up your cmd dialogue box again.
Within the dialogue box, enter the following command:
net user USERNAME PASSWORD".
Simply replace the "username" with the locked user account name and the "password" with the new password that you wish to set up now.
For example: net user robertcomputer hello46816
And your work is completed successfully!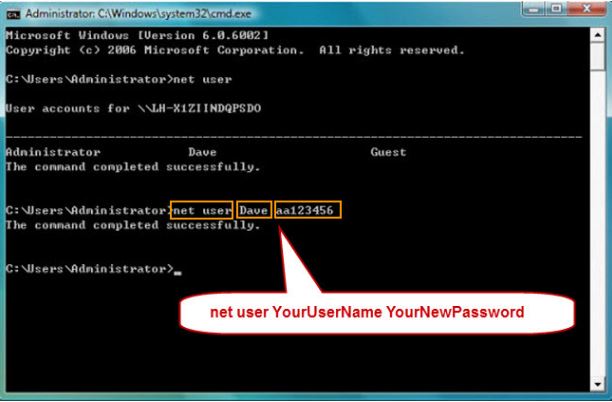 NOTE: If you are not fully confident with the command line handling, better not go for this method as even a slightest mistake with your command's entry can bring about blunder in real sense.
Solution #3: Bypass Sign-in Screen with Passfolk SaverWin
If you are totally disappointed with the first two methods for their shortcomings, there is no need to brood over it. In fact this is the high time to choose Passfolk SaverWin which will definitely help you realize the differential attributes of this tool in comparison to other third party tools and methods. Passfolk SaverWin is an amazing tool which can bypass login screen without the need of overall re-installation of the OS. Consequently, all your stored data remain intact without any slightest loss.
Passfolk SaverWin can be run with all Windows OS, namely XP/ Vista/ 7/ 8/ 10/ 2000/ 2003/ 2008/ 2012/ 2016 etc. Moreover, if you are having an advanced BIOS facility of DSI/ UEFI/ Legacy mode, the tool will give you no hindrance. No internet connectivity is required to run this tool and you can ask any query to its all time available customer service.
But before you put this tool to use, ensure yourself with few basic requirements- A working computer; Passfolk SaverWin program file; a vacant optical disk.
Once you are ready with all the preparations, install the software on any of your fully functional computer with proper step instructions. Open up the tool with full admin rights, and choose "USB or CD/DVD" option from the main tool's screen. Insert your blank disk, and choose either "Burn USB" or "Burn CD/DVD" as per your disk type.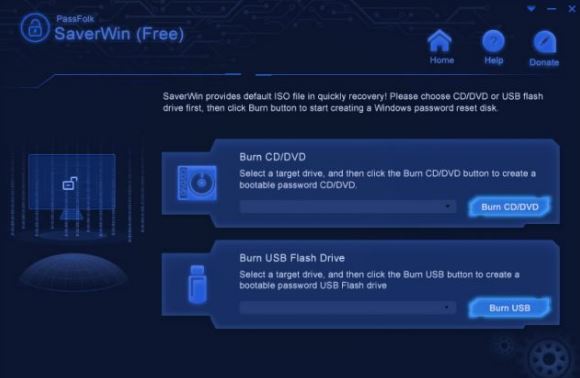 It will begin the burning of ISO image files to the blank disk and you will be notified with a message "Burning Successfully!" Simply click "Ok" to end the process.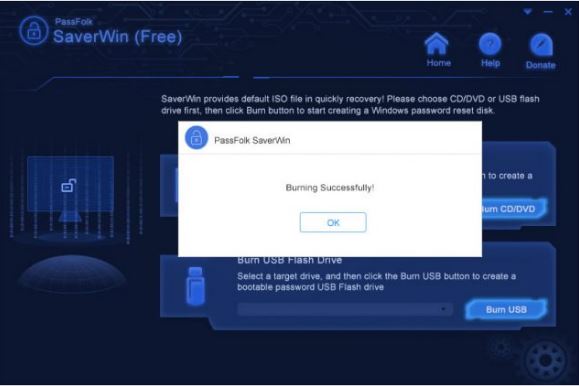 Now take out the loaded disk and reconnect it to the locked system and boot the computer from the BIOS utility settings using it. Your ISO files will start to be loaded to the main hard disk and all the registered user accounts will be displayed on the screen. Choose your locked user account and click on "Reset Password" button. Next; click on "Reboot" button to begin the password bypassing process.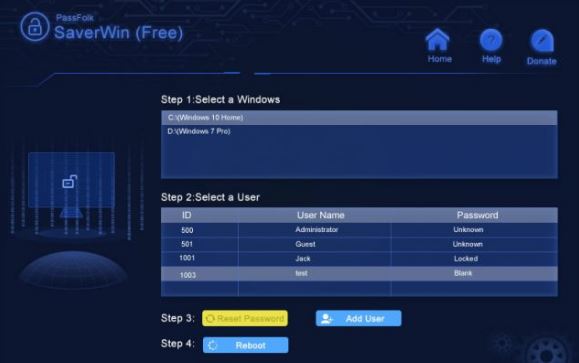 Your computer will be rebooted, but there shall be no password prohibition anymore.
Disclaimer:
Be cautious and attentive while using the methods mentioned above, and to be on safer side, rely solely on Passfolk SaverWin for a comparatively better and authentic result, which might not be the case for the first two methods. Once you are able to access your previous account freely again, make sure to set a new password, but keep it noted somewhere safely for future use if required.